Technology research and development

Grace Solar in product development always requires "professional and innovative", with "professional" to provide effective protection, with "innovation" to create more value for customers.
Grace Solar has a team of returned overseas students led international professional R & D team, focusing on the application of the introduction of high-tech talent and advanced testing equipment, launched its ground PV mounting, the roof and a series of high-tech products PV Mounting in the structural design and system performance has always been a leader in the industry.
Management philosophy

Grace Solar in the early days, he proposed standardization and internationalization of the starting point management philosophy, and actively introduce a number of international management systems such as ISO9001: 2008, APQP, FMEA, Control Plan, MSA, SPC, etc., and in the development, production , sales, service and many other aspects of strict reference to their management standards.
Grace Solar also attaches great importance to guide the protection of intellectual property rights and authority in the field of solar PV has a number of patents and software copyrights, and successfully passed the UL, TUV, CE, CQC, SAA, AS / NZS1170, Golden Sun and many other international and domestic certification authority.
Service Network

Thanks to long-standing and reliable product quality and quick response service, Grace Solar has won worldwide system integrators, installers, distributors of the trust, and with a few large service providers powerful combination of in-depth cooperation establish a global service network to provide fast and efficient service for the local market.
Grace Solar ground-mounted aluminum alloy made ​​of 100% high strength aluminum alloy structure, light weight, high strength, beautiful appearance, easy installation, suitable for the majority of framed and frameless solar panels installed on the ground outside the existing market, which is based generally boring concrete concrete barrier and bolts.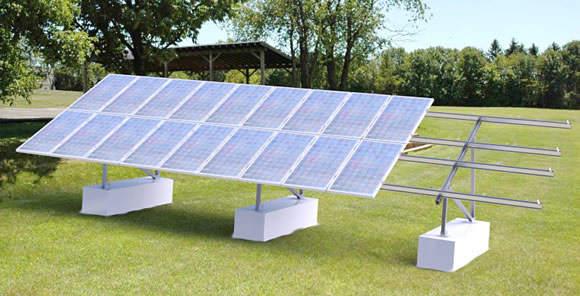 Technical parameters
| | |
| --- | --- |
| Installation site: | Open ground |
| The maximum wind speed: | Less than 60m / s |
| The maximum snow load: | Less than 1.4KN / m2 |
| Component type: | Framed or unframed |
| Component placement: | Vertical |
| Main structure material: | High-strength aluminum alloy |
| Fastener Material: | Stainless steel |
Advantages

| | |
| --- | --- |
| Installation is simple: | Some parts factory assembled, saving installation time on site |
| Safe and reliable: | Structure calculation and rigorous testing to withstand the harshest weather conditions |
| Flexible Adjustable: | Full account of the difficulties point installation, clever design, to ensure its flexible and adjustable |
| Years warranty: | 10-year warranty to protect you from the trouble frequent maintenance |
Grace Solar adjustable roof mounting system suitable for a variety of common framed roof solar panels relative to a particular fixed angle. The system can also be as a fixed angle adjustable angle of 10 to 15 degrees, 15 to 30 degrees or 30 to 60 degrees. Unique aluminum extrusion rails, ramp loading cards, all kinds of cards and a variety of roof hooks block can be pre-loaded from the height and make installation quick and easy, saving your labor costs and installation time. Custom lengths can eliminate the need for on-site welding and cutting, thus ensuring that the products from the factory to the installation point, high corrosion resistance, structural strength and aesthetics.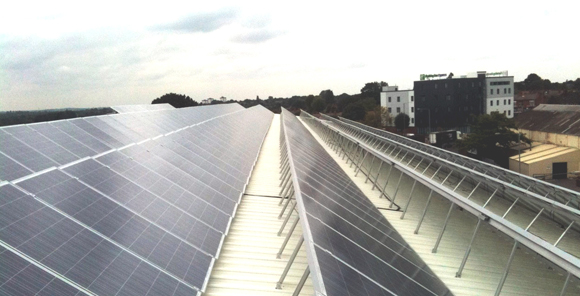 Technical parameters
| | |
| --- | --- |
| Installation site: | Small slope roofs or flat roofs |
| Tilt angle: | 10 ~ 60 deg |
| Building height: | 20 m |
| The maximum wind speed: | <60m / s |
| The maximum snow load: | <1.4KN / m2 |
| Reference standards: | AS / NZS 1170 and other international standard |
| Material: | High-strength aluminum alloy Al6005-T5 & stainless steel 304 |
| Embalmed: | Anodizing & Stainless Steel |
| Color: | Natural color or custom |
| Quality assurance: | 10-year warranty and 20-year life |
Advantages

| | |
| --- | --- |
| Installation is simple: | Ramp loading cards anywhere from aluminum extrusion rail mount, and with highly preloaded card blocks and hooks to the greatest reduction in installation time and cost. |
| High durability: | 20 years of life and 10 years of quality assurance for the design, all the structural components are high strength stainless steel and anodized aluminum to ensure high durability of the material. |
| Withstand extreme weather: | Grace Solar roof tilt bracket system consists of experienced engineers in accordance with AS / NZS 1170 and other international standard designed to withstand extreme climatic weather conditions. The main force members through a variety of systems are tested to ensure its structural carrying capacity. |
| Extensive installation flexibility: | Grace Solar roof tilt bracket system is suitable for a variety of common framed solar panels installed on the roof of all types, from small to large solar systems can even several megawatt system on the existing market for its services. |