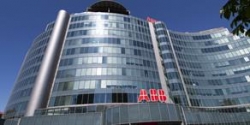 The ABB Proposition
ABB provides the most comprehensive portfolio of products, systems and solutions along the solar PV value chain that enable the generation, transmission and distribution of solar power for both on-grid and microgrid applications.
The offering includes one of the widest portfolio of inverters. Big or small, commercial or residential, utility or industry, ABB has the power to support you.
The ABB Advantage
Quality, local presence, and bankability are the hallmarks of ABB products.
European quality engineering and production: With factories in Europe, ABB inverters are made with highest quality of materials and manufactured the highest quality EU standards. This provides a high performing inverter that is built to last.
Global footprint; Local presence: ABB has over 30 GW of solar inverters and presence in over 100 countries, you can count on an ABB office near you to provide strong local support which is critical to long-term smooth operation of your solar installation.
Bankability: Solar installations are meant to operate for 20-25 years at a time, and are a high investment whether you are a homeowner or a solar farm developer. With over 40 years of history as ABB, yearly revenues of $35 billion and 135 thousand employees, ABB is a Fortune 200 publicly listed company that customers can rely on.