1. 200 MW Solar Module Turnkey Project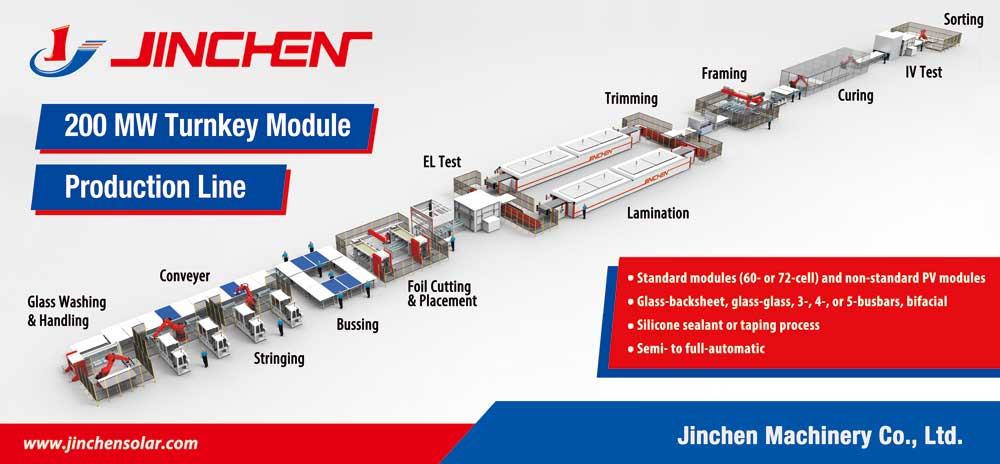 Turnkey Module Production Line

- Standard modules (60- or 72-cell) and non-standard PV modules

- Glass-backsheet, glass-glass, 3-, 4- or 5- busbars, bifacial

- Silicone sealant or taping process

- Semi- to full-automatic

Turnkey Solutions with Performance Guarantee!

- State-of-the-art highly efficient production equipment

- High throughput, small footprint

- Low operator requirement (dependent on level of automation)

- Competitive low-cost solutions and automation

2. Automatic Photovoltaic Cell Stringer AUSTR-2400
Jinchen is introducing this new AUSTR-2400 high-throughput small-footprint stringer after intense research and testing. During the past 12 months, the stringer has proven its reliability and durability in mass production! Cell handling is fully automatic, cell loading and string unloading can be both integrated with external automation systems. A CCD-based visual system detects cracks, broken edges, scratches and the position of the bus-bars. Our flexible ribbon press-holding system guarantees a very low breakage rate plus extra-high soldering accuracy. The IR soldering technology ensures a moderate and smooth temperature profile to which the cell is exposed. A patent-pending high-precision flux application system with a <1mm nozzle reduces residual flux overflow and consumption with a visual system controlling soldering accuracy and bus-bar coverage. We also have an automatic bus-bar coverage inspective system replacing manual inspection to ensure soldering result.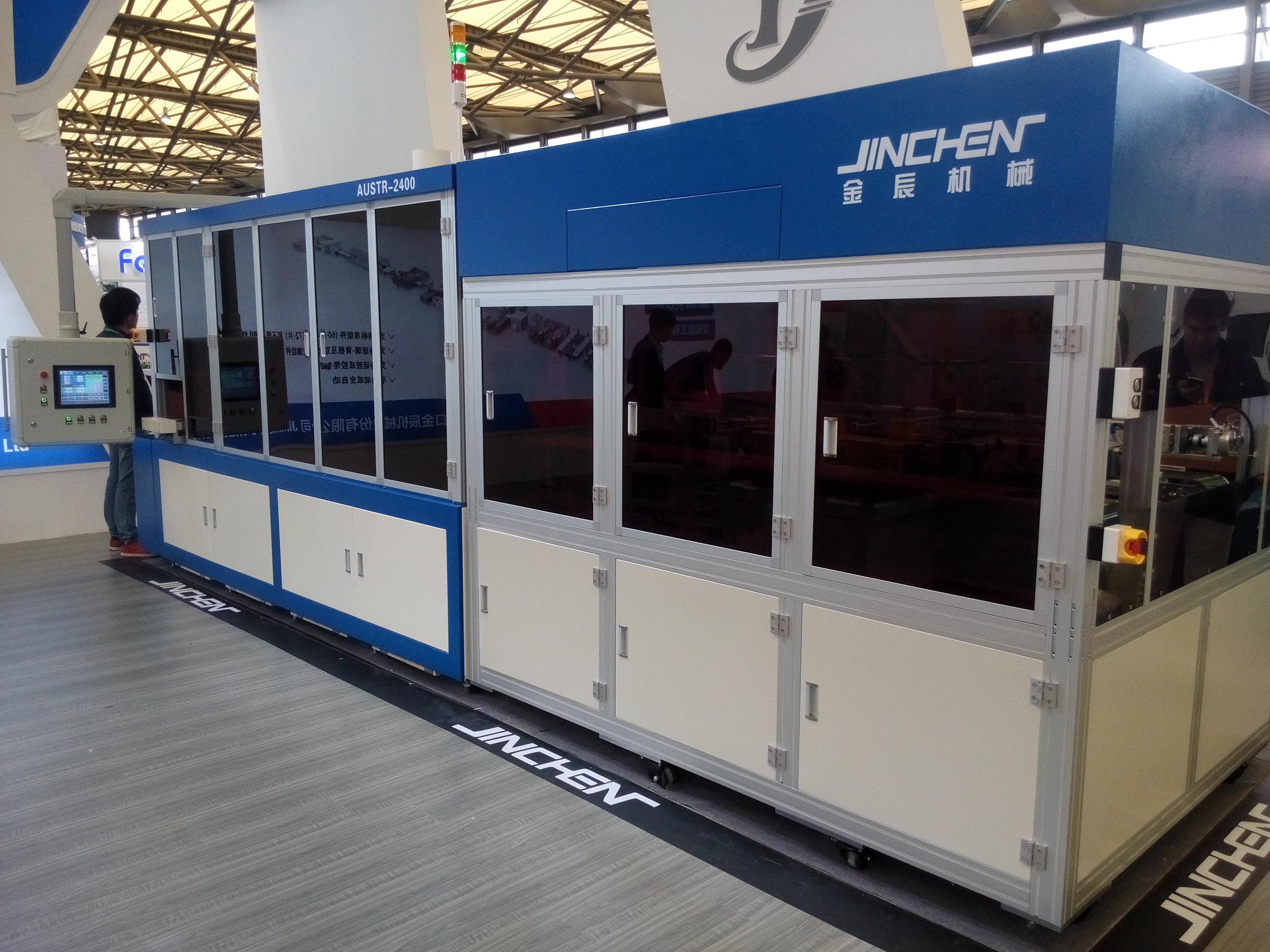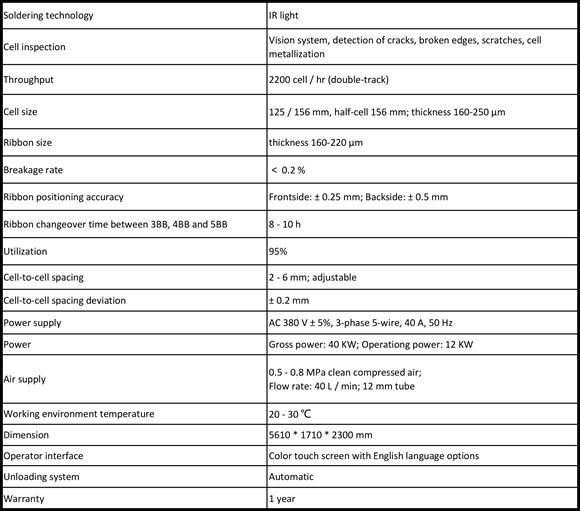 3. EVA Automatic Cutting and Laying Machine JC.GF 0010
EVA / TPT Automatic Cutting and Laying Machine JC.GF 070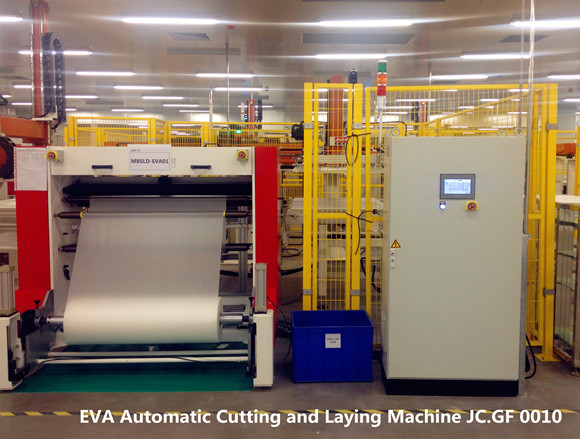 The system consists of cutting unit and placing unit. Equipped with direct drive blade, the cutting unit controlled by electrical machine is responsible for unreeling and exporting EVA with highly accurate length control. Placing unit which can pave glass with EVA is controlled by motor drawing device with perfect positioning performance.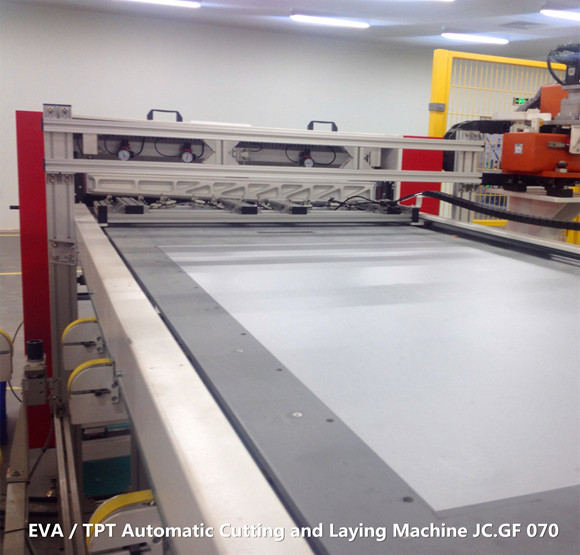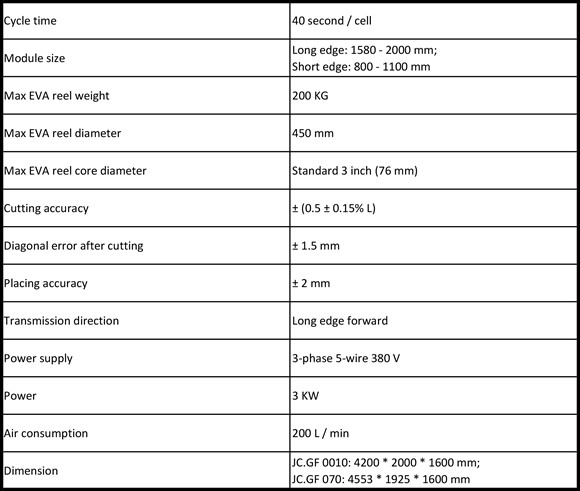 4. Automatic Glass Loader JC.GF00005 / 00013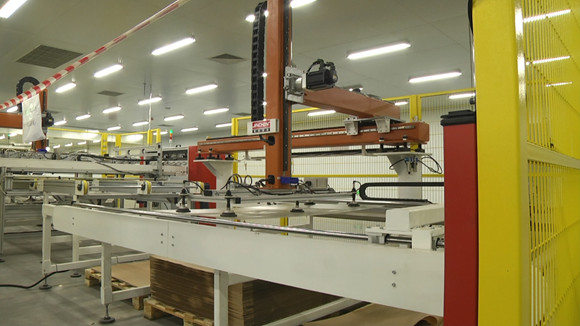 The machine is used for automatically loading panes of glass into a PV module production line.

The system uses suction cups to grab the glass or to separate paper, places the glass onto the conveyer line, and disposes of the paper into a separate container. The entire setup is operated within a fenced-in area for maximum safety.

The system works very reliably and is characterized by its compact structure and layout, minimized weight and footprint, as well as easy and safe operation.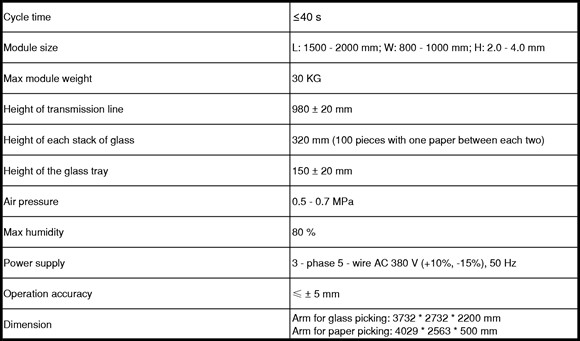 5. Laminator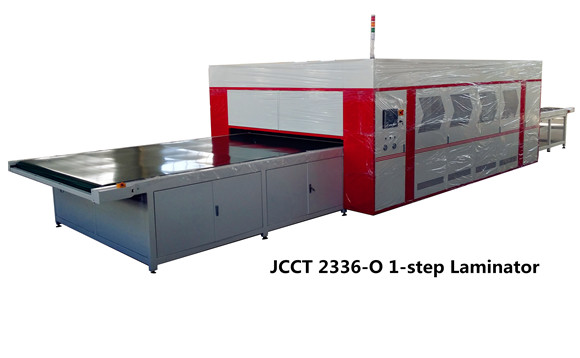 JCCY 2336-O 1-step

This 1-step laminator is designed to run a state-of-the-art lamination process for standard glass-backsheet modules. The upper section of the system is equipped with a temperature-controlled top-part of the lamination chamber, which can be elevated. It opens and closes automatically synchronized with the conveyer system for loading and unloading. A rolling brush system is used to clean the high-temperature cleaning-sheet which avoids contamination of the laminator chamber with EVA residues.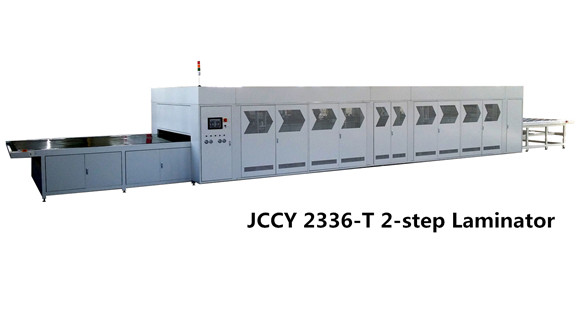 JCCY 2336-T 2-step

This 2-step laminator is designed to run a state-of-the-art lamination process for standard glass-backsheet, glass-glass modules and also flexible modules. The machine is equipped with an additional hot-press chamber, in which pressure, temperature and vacuum can be controlled separately. A typical lamination process takes place in the second chamber, under defined temperature, vacuum and pressure, while the first chamber is used for heating the laminate and light vacuum. In this way the throughput of this system can be significantly increased. By means of the 2-step design the actual working time per chamber is reduced, which effectively extends the lifetime of consumable accessories. The annual production capacity of this 2-step system is almost doubled compared to a single-chamber design. The total floor space needed for this lamination capacity, including infeed- and outfeed-tables, is significantly reduced.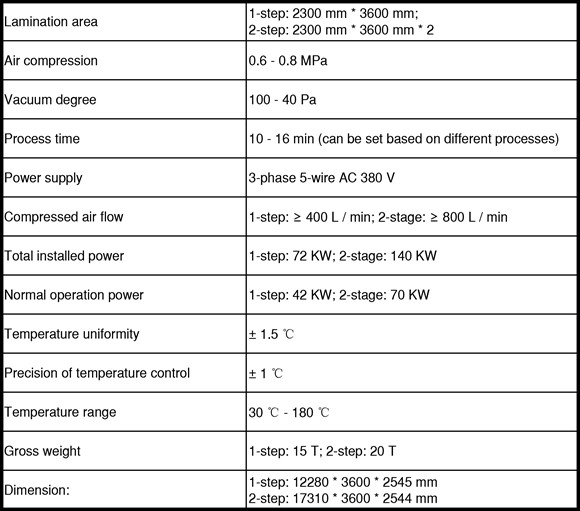 6. EL Tester JC.GF00009 (Long edge forward)
EL Tester JC.GF00029 (Short edge forward)

This system is robustly built on a frame made of aluminum extrusion parts. Synchronous belt is driven by variable frequency motor to make sure highly accurate positioning. Module transmission path can be manually moved in horizontal directions with convenience. Jacking system is driven by cylinder with a compact design and light weight. Horizontal transmission device is orientated by lead screw to guarantee a smooth operation. The machine is full-automatic requiring no human intervention.

The EL images can be watermarked and saved automatically by scanning the laminate barcode. Optionally, the operator can select certain types of defects for which the system will check. The information of defective modules can be saved automatically in folders named after date to allow a convenient search function. The filing path and picture format can be customized. The camera resolutionand software (like selection of type of defect) can be altered to meet varying requirements. The saved image data can be uploaded directly to the server through a MES system with a report form recording the defects sorted under dates and positions of the defects. The system has a high defect detection rate and can generate data for statistical overview.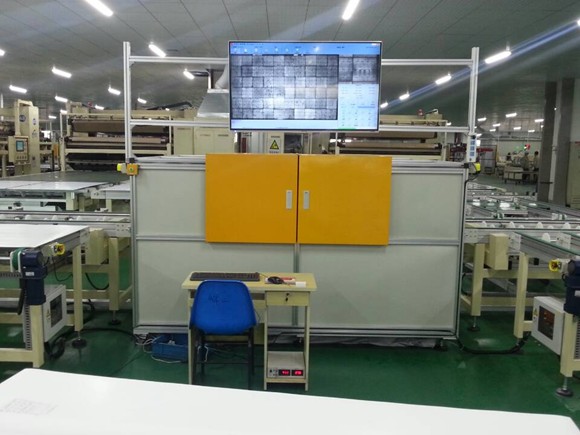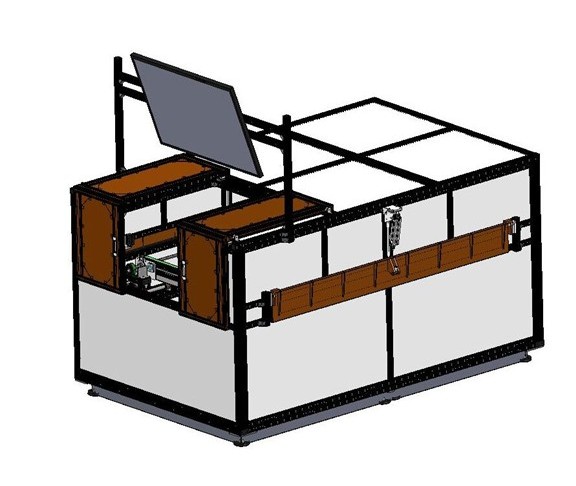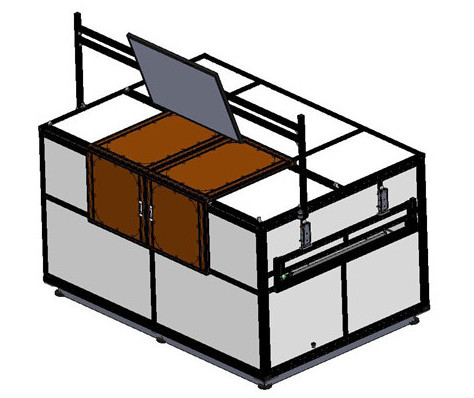 JC.GF00009 (Long edge forward) JC.GF00029 (Short edge forward)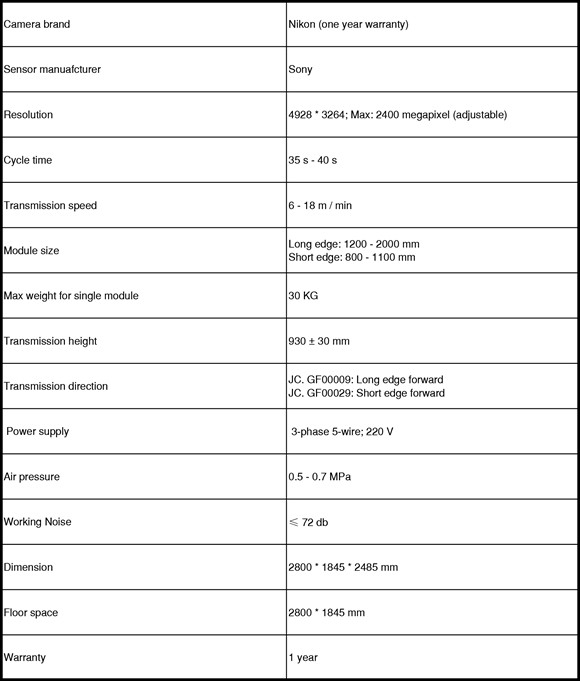 7. Automatic Trimming System JC.GF 00016

This system is built on a robust steel frame and automatically trims the laminates after the encapsulation process is completed. A set of 4 blades simultaneously cuts off the remnant foil material from the 4 sides of the laminate.

The blade system is designed to make an elastic contact with the laminate by means of pressure sensors. With this technology, the arc-shaped blade performs a clean and precise cut, and is easily changeable.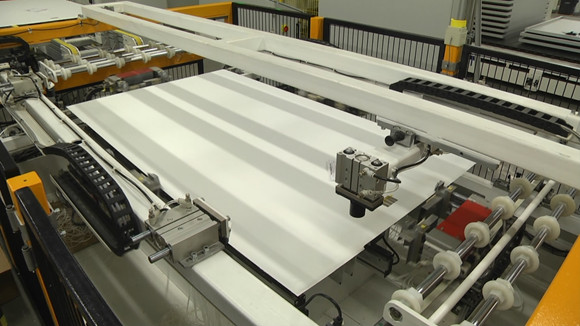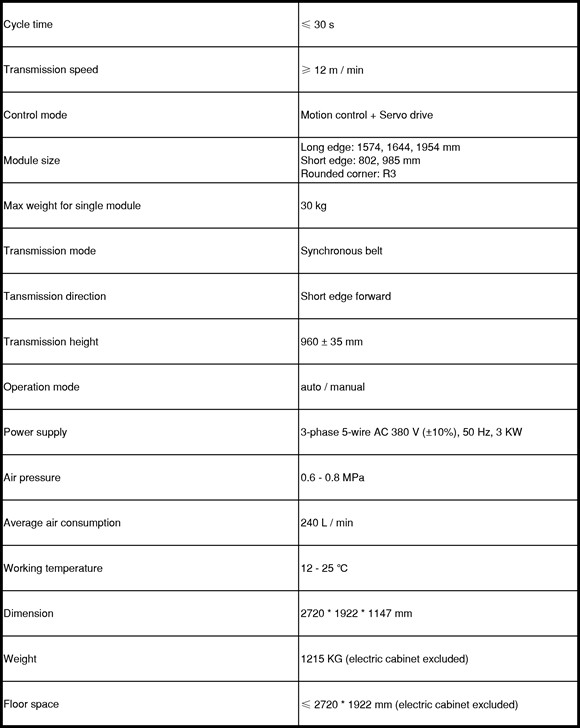 8. Full-automatic Framer JC.GF00068 (Automatic loading)
Semi-automatic Framer JC.GF00073 (Manual loading)

This automatic machine applies an aluminum frame with corner-keys to a glass-backsheet laminate. It can frame standard 60-, 72, or 96-cell laminates, but can also be customized to frame smaller laminates. Servo-drives ensure accurate positioning of the laminates in the framer.

A specific open design and pressing wheels at all four corners reduce silicone sealant overflow and staining of the laminate. Framing pressure of up to 2 tons can be applied.

The system can handle different sizes of laminates, and can be customized for additional implementation of corner screws, instead of or additional to corner keys, as well as for the use of tape instead of silicone sealant.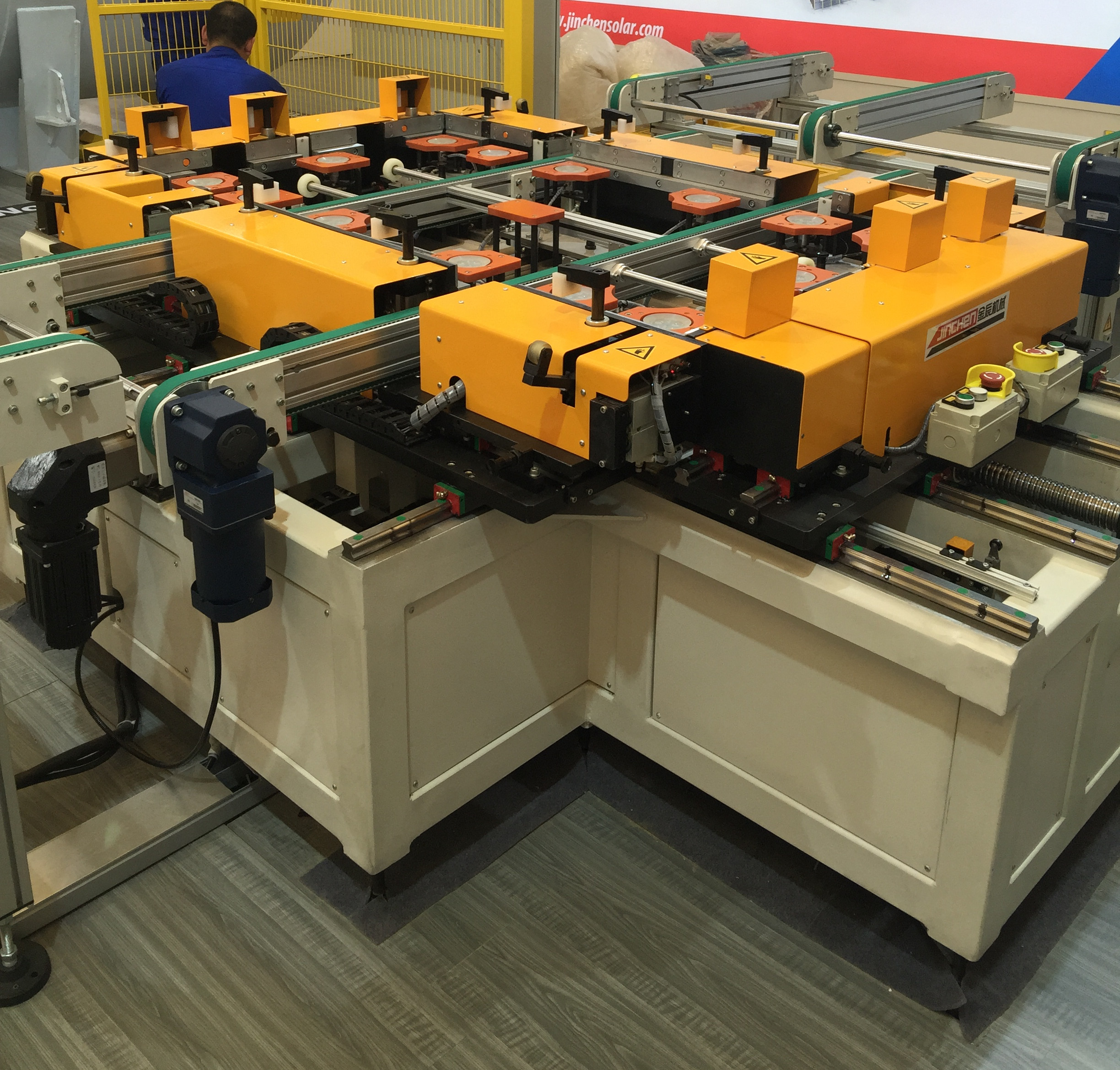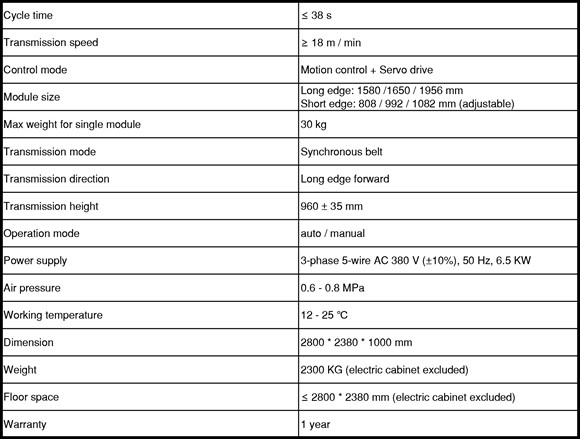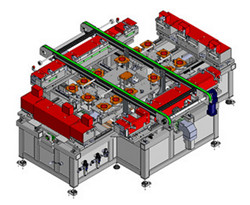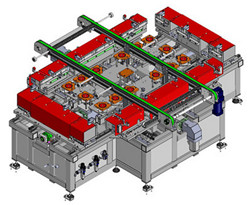 Full-automatic Framer JC.GF00068 Semi-automatic Framer JC.GF00073
9. Automatic Layup Machine JC.GF020

This system places solar strings accurately on the glass-EVA substrate and delivers the complete lay-up to the next process station. The accuracy is controlled and monitored by a visual inspection using a high definition industrial camera, which can also identify cell breakage at the edges and bus-bar exposure on cells.