Corporate Video






ZJ BENY (Zhejiang Benyi Electric Co., Ltd.)
As the solar PV systems and industry requires higher and smarter controlling and protection, ZJBENY develops automatic and more cost-efficient solutions like rapid shutdown, AFCI solution for rooftop fire protection.
Innovation is the only way to the future.
● Top 1 Brand of DC isolator switch in Australia
● Only one supplier of true RoHS DC surge protection device
● Top 10 manufacturer of Solar Combiner Box
● With more than 30 years experiences in electrical industry
DC Circuit Breaker


Arc flash barrier design keeps solar equipment more safe and reliable.

For DC circuit over-current protection.
●
Non-polarity DC breaker

●
Up to 1200V 63A

●
IEC-60947.2

●
Arc flash barriers keep the systems safety

●
IP65 PC enclosure is optional

Isolator Switch


The patented arc extinguishing chambers and instruction make fast and safely switch off. The special instruction is only available in ZJBENY DC switch which is the most important for the DC switch reliability and electrical life.

IP66 enclosure and customized solutions are available to meet multiply inverters.
Reliable

UL listed material.

Patented arc extinguishing instruction for arc interruption within 3ms.
Standards

UL 508i, IEC60947-3 DC-PV2 CCC

Applications

Solar combiner box
Solar inverter
DC Fuse Holder


The 1500V DC fuse holder BRL-30 series can carry two 10*85mm fuses max 30Afor each. For 1500V solar combiner and DC circuit for over-current protection.

2P fuse holder makes more cost-efficiency and compact solutions.


Features

1500V 30A
2P 10*85mm fuse link
Finger safe touch
Combiner Box


BHS-2/1 solar DC combiner box is designed for 2 strings input 1 string output to solar inverter DC side. Equipped with the newest DC-PV2 disconnect switch for system switchgear.

1000V finger safe touch DC fuse holders protect the solar circuit from over current.

Type 2 DC surge arrester for over voltage protection.

5 years warranty for any quliaty problem.


Features:

*
1000V

*
2 strings input

*
1 string output






Rapid Shutdown


BFS-11 is a module level rapid shutdown device for solar building fire safety.
The emergency button switch is required to initiate the rapid shutdown function, after the button switch connected with BFS-11 devices by signal cables.
This communication type is the most reliable one, ensure the PV system has RSD function in decades and the panel can be switched off to a safe voltage level in case of emergency at the lowest power consumption.
A RSD solution is good for existing solar rooftop or new installations.

How the solution works?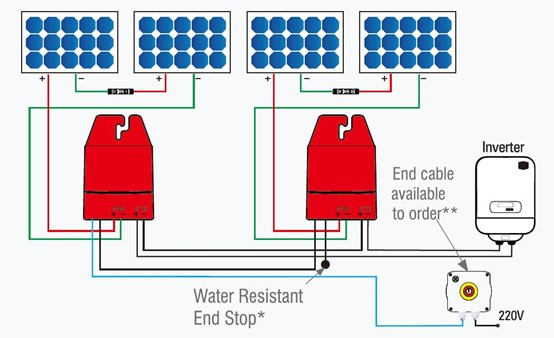 Each BFS-11 device operates two solar modules, the modules in series go to inverter sting as usual. The only difference is the communication signaling cables connect the BFS-11 in series and go to the button switch complete the RSD solution.
A complete RSD solution:
Automatic shutdown the panels when there is a temperature in the area higher than 85°C detected.
Automatic shutdown the panels when the power supply loss in the button switch box.
The fireman and people can manual the button switch to shutdown the panels when there is an emergency.






EV Charger