Alkaline Edge Isolation & Polishing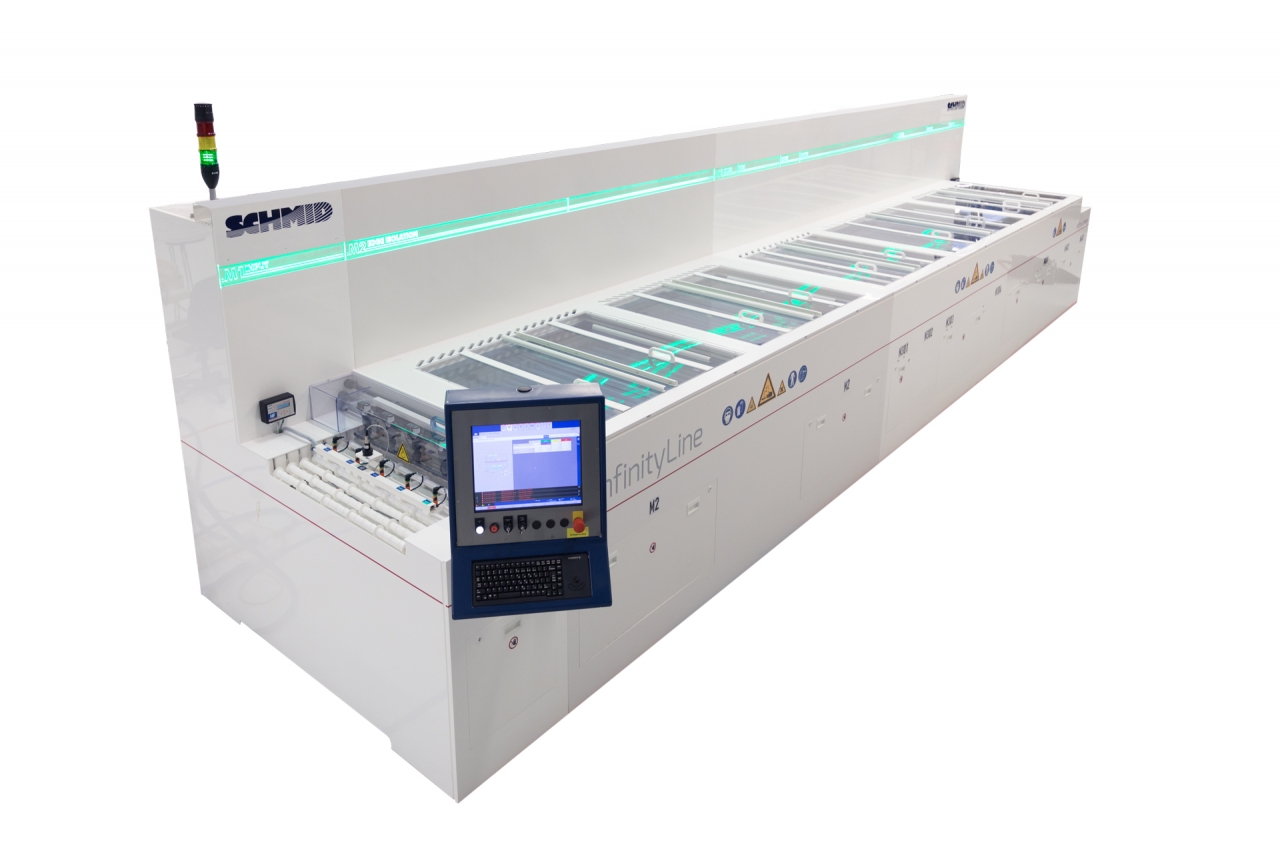 The Alkaline Edge Isolation Inline System achieves a perfect edge isolation with an alkaline solution instead of nitric acid (HNO3) that is difficult to handle. The effect: lower process costs and no polluting nitrogen oxide (NOX) that is expensive to dispose of. In addition, the system can be used for polishing the rearside of the wafer.
NOX-free edge isolation and polishing
The Alkaline Edge Isolation Inline System combines several process steps in a modular system. On the one hand the emitter layer on the rearside of the wafer generated during the diffusion process is unilaterally isolated from the front side of the wafer in order to prevent malfunction of the solar cell. On the other hand the phosphorous-silicate glass (PSG) is removed from the wafer surface.
With the Alkaline Edge Isolation Inline System, SCHMID has the world's only system for edge isolation in its portfolio which can be operated without any nitric acid (HNO3). Alkaline potassium hydroxide solution (KOH) is used instead of the expensive acid. The obvious advantages: No nitrogen oxide (NOX) is generated, which requires a complex exhaust and a subsequent costly disposal. This allows to easily meet increasingly stringent environmental requirements. In addition, processing at about 90 °C ensures a high etching rate and thus a small footprint of the system.
During the edge isolation the emitter is protected by the water mask developed and patented by SCHMID. Special transport rollers ensure that the chemistry comes into contact exclusively with the rearside, thus reducing the chemistry consumption. In addition the process can be used for polishing the rearside of high efficiency cells such as PERC. Further to significant cost savings, the process also allows additional performance improvements.
Benefits
● Significantly lower chemistry costs than in the case of an acid process
● NOX-free process meets strict environmental requirements
● Edge isolation and polishing for high-efficiency cells (e.g. PERC) in one system
● Patented water mask
● Stable process without cooling unit
● Shortest maintenance times due to good accessibility and easy cleaning
Technical Data
Throughput:
● 3,600 wafers/h (5 tracks)
● 7,200 wafers/h (10 tracks)
● Further throughputs configurable
Wafer size:
● 156 – 161.7 mm
Breakage rate:
● < 0.1 %
Process media:

● HF
● KOH
Automation:
● Optional Loader and Unloader
DW PreTex
DW PreTex is the most cost-effective process for texturing of diamond-wire-cut multi-wafers. It roughens the relatively smooth surface of the wafers so that it can be processed afterwards with the standard texture HF/HNO3. Based on an inline wet process, the process is suitable for both wafer and cell manufacturers.
Cost-effective texturing of diamond-wire sawn multi-wafers
DW PreTex can be integrated into the existing production as a modular wet process system without additional requirements – both for wafer and cell manufacturers. For DW PreTex uses common materials used in the PV industry. The operating costs are less than 0.01 Euro per wafer. In addition, the process achieves extremely uniform surfaces with reflection values down to 21 %.
The inline process developed by SCHMID provides enormous savings for the PV industry. DW PreTex requires only one process step to allow the processing of diamond-wire cut multi-wafers with the proven standard texture HF/HNO3. Thanks to the perfect pre-treatment by DW PreTex, the diamond-wire cut wafers have more uniform surfaces than slurry-cut wafers. Thus further increases in cell efficiency are possible.
DW PreTex is available in two versions: as a separate single unit that roughens the surface of the wafers and then uses the available texture capacity, or as a combined line for complete texturing. Due to the modular design, the inline process can be designed for serial production of up to 4,500 wafers per hour.
Benefits
● Creates a surface with low reflection value down to 21 %
● Water-based inline process
● Available as single unit and inline with acid texturing
● Can be easily integrated into existing wafer and cell production
● Total Cost of Ownership per wafer < 0.01 Euro
Technical Data
Throughput:
● 3,600 – 4,500 wafers/h
Wafer size:
● 156 – 161.7 mm
Reflection:
● R < 23 %
Working width:
● 5 tracks
APCVD System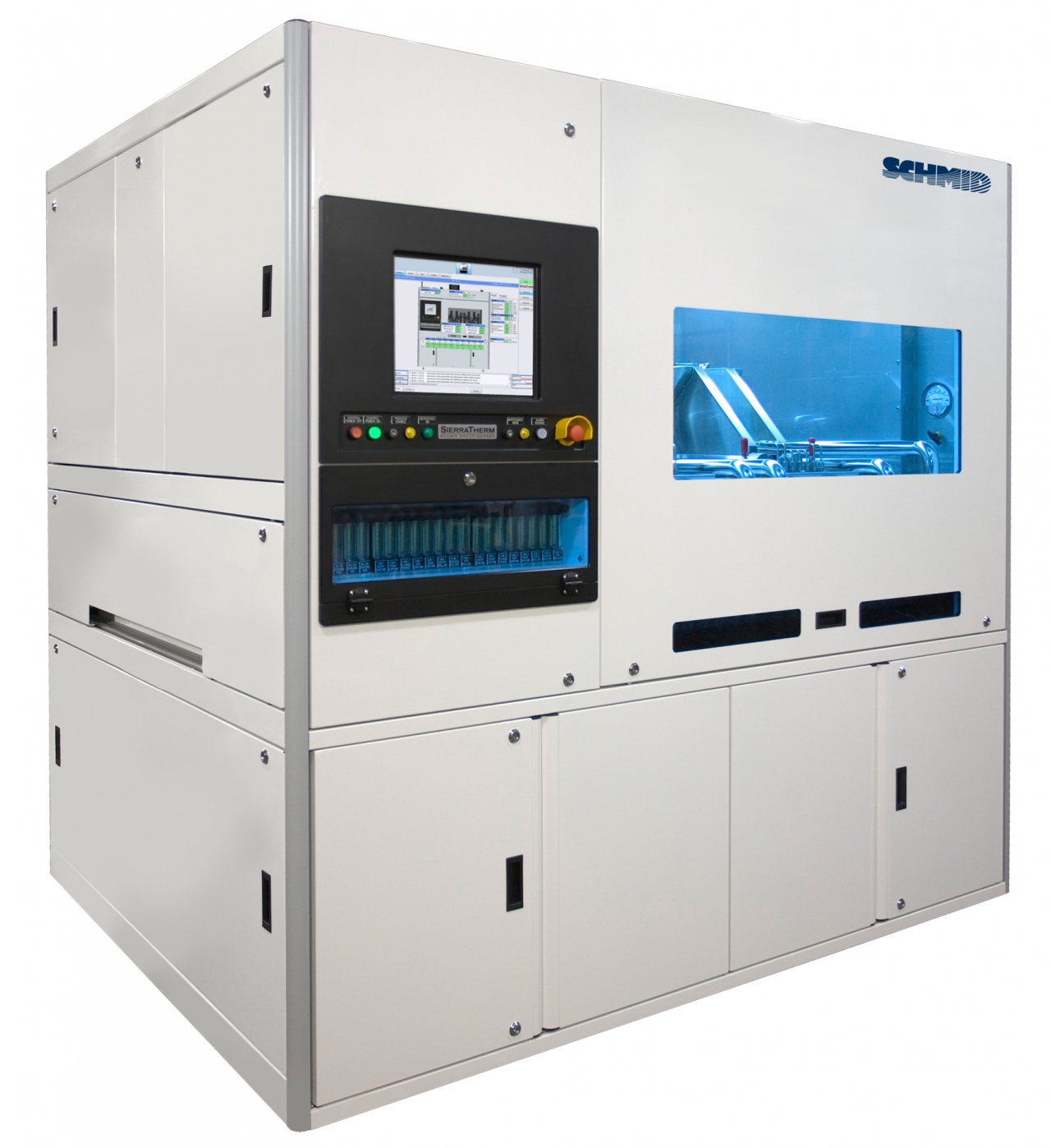 The 5500 series APCVD system is well suited for low cost high-volume processing for all cell architectures requiring single or multi-layer dielectric thin film deposition. SCHMD's horizontal inline design ensures that each substrate receives the same process treatment resulting in excellent layer uniformity. Depositing single-sided and therefore highly efficient, APCVD technology provides unequaled economic performance for various applications like Topcon, n-PERL or IBC solar cell manufacturing.
Low cost inline deposition of thin films
The SCHMID APCVD System offers the lowest cost alternative for dielectric film deposition. In the roller transport system, only the substrate is heated during the process, so electricity and cooling requirements are greatly reduced. Multiple injector heads can be used in series within a single APCVD system. Three tiers of graded, power saving insulation further reduce energy bills. The inline system is available in two configurations: with belt transport or with roller transport. Each transport method has its advantages.
The production proven APCVD System from SCHMID includes multiple injector heads in series to maximize process throughput, uniformity, and flexibility while minimizing cost. The world class HMI allows the customer to easily monitor and control all process parameters in a user-friendly touchscreen environment. The maintenance-conscious design allows chemical injectors and exhaust ducting to be cleaned while in place on the system and without significant process interruption. Modular chemical vapor injector head assemblies allow quick and easy installation and removal from the coating chamber. All injector head parts are durable precision machined structures ensuring accurate chemical delivery even after extended use.
Thermal systems from SCHMID have become famous for process stability, and the APCVD system continues this tradition. Stable, unsurpassed temperature uniformity control ensures consistent process results. In addition, precision process exhaust and precursor flow controls guarantee consistent film results.
Applications:
● Undoped SiO2 (USG)
● Boron doped SiO2 (BSG)
● Phosphorous doped SiO2 (PSG)
● TiO2
● Poly-Silicon
Benefits
● Excellent for boron doping of n-type solar cells
● Poly-Silicon deposition for passivated contacts
● Low cost of ownership resulting from low facilities requirements
● Maintenance-conscious design allows interior access with the push of a button
● Small footprint
● Proven in mass production
● World class HMI with built in profiling, data and event logging, and touchscreen interface
Technical Data
Dimensions (LxWxH):
● 3.3 x 1.9 x 2.3 m (roller transport)
Deposition Chamber Configuration:
● Roller transport: 2 independent chambers
● Belt transport: 3 or 5 independent chambers
● Each chamber can be used to deposit any available film
Loading:
● 156 – 161.7 mm c-Si wafers (other substrates are possible)
● Roller transport: 5 tracks
● Belt Transport: 4 tracks
Throughput:
● 1,450 – 4,500 wafers/h (depending on film thickness)